Dear Reader
Have you noticed how large necklaces have become very popular? I think they can bring some added "pop" to an outfit, especially one with plain fabric.
One style, that I've seen all over the place from £7.50 - £100 is this one:
I bought one in blue from
ebay
and I'm very pleased with it. It doesn't look cheap and hangs nicely. I wore it today with a (very old) white fitted cotton shirt from Gap and blue jeans, for a smarter weekend look.
I haven't worn the shirt in a very long time, it's probably around 12 years old. I used to wear it for work, but its been hanging in my wardrobe unworn for c7 years! I've never been tempted to get rid of it, as it's one of those basics that doesn't really go out of style, and can always come in useful.
Another style of necklace that I like is this one: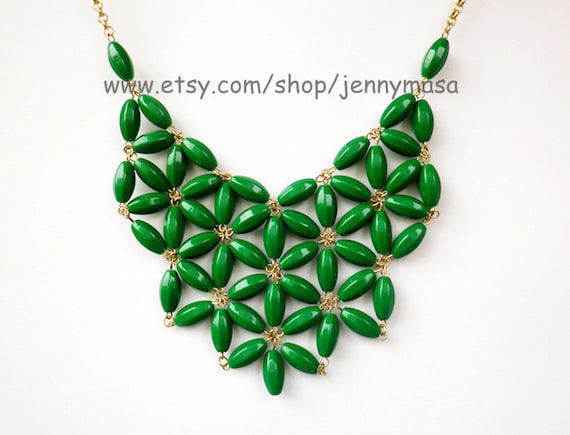 I found this on Etsy in a variety of colours.
There's a really nice costume jewellery shop in Brighton called Sensation that sell statement necklaces. I have a few and I always feel that they lift my outfit. The compliments I've had seem to match my opinion too.
Do you like big necklaces, or are you into delicate fine jewellery?
happy weekend
Claire